Employee Held Liable for Actively Competing With Current Employer
The success of businesses in specialized fields often depends on the employees' ability to deliver consistent-quality service and implement specialized techniques and processes.  Business owners in these fields know that the costs of investment in employee training and development can be very high.  What is a business owner to do when employees take this costly knowledge and expertise to a new company and begin competing against the former employer?  Fortunately, New Jersey offers relief from such acts, as discussed in the recent Appellate Division case of Baseline Services, Inc. v. Kutz, et al., A-5214-09T3.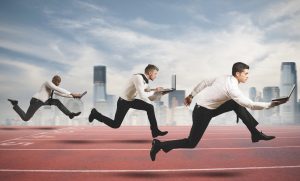 Baseline provides metrology services involving repair, maintenance, and calibration of laboratory equipment to its clients.  The corporation had a substantial annual contract – in the amount of $269,000 – with Global Pharmaceutical Sourcing Group (GPSG), which is a division of Johnson & Johnson, Inc.  The contract was primarily serviced from 2002 to 2006 by two Baseline employees – Kutz and Nicoludis.
In 2006, Nicoludis left Baseline to form Chromatography Solutions, Inc. (CSI), which provides similar services and would compete with Baseline.  In 2007, GPSG solicited bids for a new service contract due solely to cost-saving concerns and not because it was dissatisfied with Baseline.  CSI's bid undercut Baseline by over $30,000 and CSI.
During the bidding process, Kutz approached a GPSG employee responsible for selecting the new service contract.  Kutz had a long-standing relationship GPSG and the lab wanted to continue using Kutz's services no matter through which company.  The employee testified that Kutz was selling CSI's services during this conversation and also informed her that he was joining CSI, which he later did.
The market thrives on competition and an employee will not be held liable for competing against a former employer.  However, the law draws the line at employees who actively compete with their employer while still employed.  As the court in Baseline held, employees are free while still employed to take steps to prepare a plan to compete.  They may not, however, solicit customers or secretly compete while still employed.  These actions constitute a breach of the employee's duty of undivided loyalty he owes the employer, as explained in the New Jersey Supreme Court's decision in Lamorte Burns & Co. v. Walters, 167 N.J. 285 (2001).
Appellate Division Affirmed Judgment Against Kutz and CSI for Breach of the Duty of Loyalty
The Court did not find that Baseline's claim for tortious interference with prospective economic advantage and with a business relationship could be sustained.  Unlike the duty of loyalty, the tortuous interference claims require a showing of malice – that the employee absconded with a client by using means that are "fraudulent, dishonest, or illegal."  The reason for competing must be related to some other reason besides a legitimate business interest.  Here, Kutz, Nicoludis, and CSI had legitimate business interests in competing with Baseline, and while the actions by Kutz constituted a breach of loyalty, they did not rise to the level of malice as required by this cause of action.
Ultimately, Baseline recovered a $47,000 judgment against CSI and Kutz.  In reviewing the opinion, one item of discussion that is noticeably absent is a non-compete agreement.  In businesses such as Baseline, which seem to depend heavily on business relationships based on human capital and technical knowledge, owners would be wise to require the execution of such an agreement.  Breach of contract due to such actions by employees is an easier evidentiary burden to carry and can offer greater protection to business owners.  Additionally, business owners can include arbitration provisions in order to make recovery of lost profits quicker and cheaper than traditional litigation.