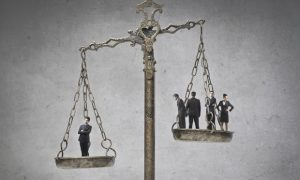 Claims of Shareholder Oppression Are Disputed by Majority Owner
A motion for judicial dissolution of a retail business based on the claims that the majority owner had oppressed the minority shareholders should be denied when the facts are in dispute.  An evidentiary hearing is necessary to resolve the disputed issues.   Ho v. Nest & Ginseng, Inc., 950 N.Y.S.2d 494 (Queens Feb. 28, 2012).
Two minority shareholders each holding 25 percent of the corporation brought suit as oppressed shareholders against the 50 percent owner of the business, which operated a J Mart in a shopping mall in Flushing, Queens, seeking dissolution of the business under Business Corporation Law 1104-a.
BCL 1104-a permits the dissolution of a corporation on application of the holders of 20 percent or more of the business based on the oppressive conduct of the majority or the directors of the corporation.  The petitioners in this action alleged that the majority shareholder, Yuk Yung Yu, was operating the business in a suspicious manner and that he had been promoting the sale of her stock in the corporation in violation of the shareholders agreement.