In valuing the shares of a minority shareholder, a trial court must consider any valuation technique that is generally acceptable in the financial communities.  Determining fair value is an art, not a science.

Directors that hold a majority interest in a closely held business have a duty to deal fairly with the minority and in a merger to make full and fair disclosures and offer a fair price in exchange for shares.

A minority shareholder that sits by or acquiesces to wrongful conduct by the majority waives the right to later pursue a claim based on that behavior.

Fee awards are available only to shareholders with a statutory right to dissent and in the discretion of the judge.
---
Casey v. Brennan, 344 N.J. Super. 83 (App. Div. 2001)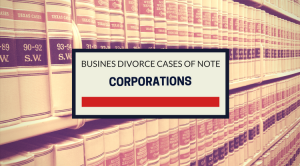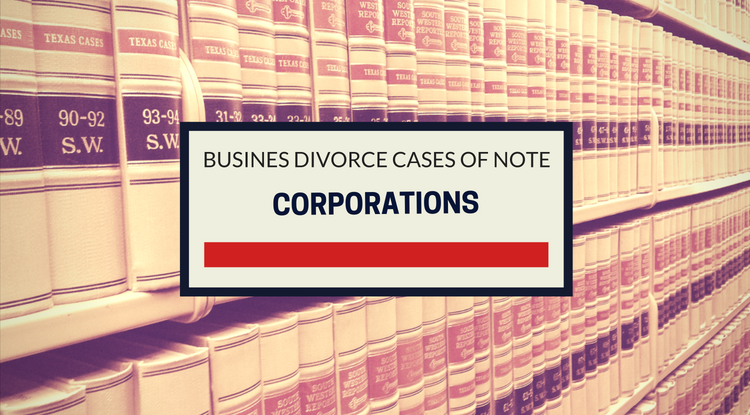 Statutes: NJSA 14A:11-1, NJSA 14A11-3; NJSA 14A:6-14: NJSA 14A:11-6; NJSA 14A:11-10
Action challenging the valuation provided by controlling directors (also majority shareholders) in corporate reorganization as plan to reduce number of shareholders to 75 or less to qualify for subchapter S status. Directors approved plan of merger at $73 a share in reorganization plan requiring small shareholders to sell. Trial Judge set value at $90 a share. (Opinion here.)  The Supreme Court affirmed the Appellate Division.  (Opinion here.)

Facts: Community Bank adopted a plan of merger as part of a plan of reorganization that would reduce the number of shareholders by acquring holdings of persons with less than 15,000 sharesat a price of $73 per share. Statutory dissenters and non-statutory dissenters brought various actions consolidated for trial. Trial court holding that proxy statement was misleading and provided non-statutory dissenters with right to sue, and determined fair value $90 per share. Affirmed in part and remanded for reconsideration of valuation issues that were rejected by trial court.
Held: a trial court must consider and may rely on any valuation technique that is generally acceptable in the financial communities and otherwise admissible in court, including methods that utilize control premiums, acquisition value and discounts.
Held: There is no inflexible test for determining the fair value of a corporation; it is an art, not a science.
Held: Director fairness in conduct toward minority in cash-out merger includes fair dealing and fair price. A minority stockholder must show some basis to attack merger, but ultimate burden is on majority to establish fairness by a preponderance of the evidence.
Held: the dissemination of an inaccurate or misleading proxy statement in cash-out merger is grounds to allow non-statutory dissenters to challenge merger or claim fair compensation for shares.
Held: the majority shareholders of a closely held business, having the ability ability to use their powers for personal advantage, are obligated to treat minority shareholders fairly.
Held: the award of counsel fees for failure to make a  good faith offer to purchase shares is a matter of discretion and available only to statutory dissenters.
Held: a court is obligated by the clear and unambiguous language of  the statute defining persons with right to dissent; it has no discretion to interpret or consider extrinsic evidence, or to correct an apparent inconsistency in it interpretation.
Held: A shareholder acquiescence in which the shareholder sits by or acquiesces in wrongful conduct will in some circumstances preclude the shareholder's right to equitable relief.
State of Organization: New Jersey