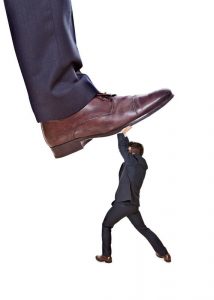 Disputes Between Shareholders Not Exempt from Arbitration Act
An oppressed shareholder claim is not outside the reach of the New Jersey Arbitration Act, the Appellate Division of Superior Court held in litigation that appears to arise in significant part from a broken promise over the lease of a BMW.
The oppressed shareholder action was filed by dentist David Edenbaum, one of the two owners of State of the Art Smiles, P.A., alleging wrongful conduct under the New Jersey Business Corporation Act's oppressed shareholder provision,  N.J.S.A. 14A:12-7.
Arbitration Clause in Shareholder Agreement
The allegation of shareholder oppression was made in an action filed in Chancery Division as well is an a counterclaim to a lawsuit filed by the other owner, Teresa Addeiego-Moore, claiming that Edenbuam had breached a separate agreement requiring him to transfer to her a portion of his interest in the practice equal to the leased vehicle in the event that he default on the payments.
The shareholder agreement contained an arbitration provision; the agreement concerning the leased BMW did not.
Arbitration not Precluded by Statutory Relief
Edenbaum argued that numerous references in the Oppressed Shareholder Act providing for relief from the Superior Court indicated that the legislature intended that such actions must be litigated in court and that agreements to arbitrate are therefore unenforceable in oppressed shareholder lawsuits.
The trial court rejected that argument and the appeals panel affirmed that decision.  The appeals court noted that there is a strong public policy favoring arbitration as a means of resolving disputes and that the courts have compelled arbitration of a number of statutory claims.
We, thus, reject reject Edenbaum's argument that the Legislature's choice of language in N.J.S.A. 14A:12-7 manifests an intent to exclude arbitration and to require that only a court may impose the relief to which an oppressed shareholder might be entitled.
Edenbaum also argued that enforcement of the arbitration act would require two actions: a court litigation over the lease agreement and an arbitration of the oppressed shareholder agreement. Two actions arising out of a single set of facts violates the Entire Controversy Doctrine and creates the potential for conflicting decisions, Edenbaum argued.
The appellate court agreed that the agreement to arbitrate did not cover the lease agreement and that conflicting decisions were possible, but ruled that the trial court could simply require the disposition of one action before the other.  The decision in the first action would then be binding upon the tribunal in the second action.
---
DAVID R. EDENBAUM, D.M.D., Plaintiff-Appellant, 
v. TERESA ADDIEGO-MOORE, D.M.D., Defendant-Respondent. 
TERESA ADDIEGO-MOORE, D.M.D., Plaintiff-Respondent, 
v. DAVID R. EDENBAUM, D.M.D., Defendant-Appellant.; 
DOCKET NO. A-4682-10T2, A-4683-10T2, 
SUPERIOR COURT OF NEW JERSEY, APPELLATE DIVISION, 
January 9, 2012, Decided

COUNSEL: Steven E. Angstreich argued the cause for appellant 
(Weir & Partners, attorneys; Mr. Angstreich, on the briefs).

Karen M. Murray argued the cause for respondent 
(Caplan, Valenti & Murray, attorneys; Ms. Murray, on the briefs)