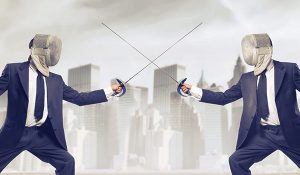 Oppressed Shareholder Settlement Void
Shareholders in New Jersey's Wild West City cannot distribute assets to resolve an oppressed shareholder action due to an unresolved claim involving an employee's accidental shooting. The case is a warning, perhaps, that prudence requires some due diligence before a release is signed to ensure  that there is not a lurking claim that could upset the settlement.
Purchase of Minority Interest

Oppressed shareholder actions almost invariably end with the compelled purchase and sale of the minority shareholder's interest. An unresolved claim, however, that could give a third party an interest in the company's assets may prevent any resolution of the dispute.
Stabile v. Stabile (Stabile v. Stabile.pdf) involved a dispute between the members of several family owned businesses owning a large tract of land in rural Sussex County, New Jersey and operating Wild West City, a western theme park. The businesses also held a liquor license and owned a contiguous restaurant. The litigation among the family members began in September 2005, when James Stabile filed suit alleging various breaches of duties by the directors of the business and minority shareholder oppression. In June 2006, the Court entered an order that the plaintiff was be bought out at fair value. The real estate holdings were appraised at about $11.45 million.