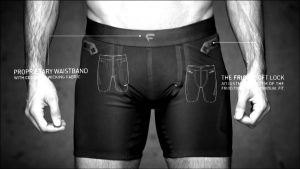 Derek Jeter promised his new business partners that his ownership and support of the Frigo brand of men's underwear would not conflict with the superstar Yankee's obligations to sportswear giant Nike.  In return, RevolutionWear, Inc. gave him 15 percent of the company and a seat on the board.
Apparently, Nike did not take too kindly to Jeter becoming well-known as one of the principal owners of a competitor, and when the athlete failed to embrace the brand — $50 undershirts and $100 briefs — the relationship spun out of control.  Jeter filed suit first, seeking a declaration supporting his conduct.  RevolutionWear counterclaimed, alleging fraud and breach of fiduciary duty.
The decision of the Delaware Chancery Court in Jeter v. Revolutionwear, Inc., C.A. No.11706-VCG (Del. Chancery July 19, 2016) points out some of the pitfalls in trading equity for services.  Once Jeter was on board, according to the plaintiff's counterclaim, he was loathe to be publicly associated with the enterprise, or in other words, to live up to his obligations.
The Court held that the counterclaim did state a viable cause of action for fraudulent inducement in alleging that Jeter had expressly represented that his role with RevolutionWear was not a conflict with his obligations with Nike, and that misrepresentation purportedly made to investors constituted a breach of fiduciary duty.
The Court of Chancery in Jeter v. RevolutionWear, Inc., C.A. No. 11706-VCG (Del. Ch. July 19, 2016), provides a helpful explanation and application of several basic principles of Delaware corporate and commercial law that are useful to include in the toolbox of corporate and commercial litigators. Background Facts: The court's opinion begins with the admonition that: "This case provides a cautionary tale of the mixing of roles in a corporate-governance setting." The facts of the case involve a well-known professional baseball player who was given an equity interest in, and made a director of, a company that […]
See Chancery Compares Claims Against Director Based on Fiduciary Duty and Contract