Court Rejects as Unnecessary Statutory Interpretation Finding Fiduciary Duties in LLC Act
One of the burning issues in limited liability company law is the existence and scope of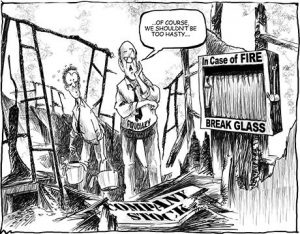 the fiduciary duties that are the core of the business relationship between the owners and managers of the business.  Our discussion of a recent decision from Delaware is intended to emphasize the unsettled nature of the question in much of the country and to provide a good starting point for an ongoing discussion of just how deep are the changes in the recently enacted changes to New Jersey's limited liability company statute.
The decision, Gatz Properties, LLC v. Auriga Capital Corp., C.A. No. 4390 (Nov. 7, 2012), is significant to the members and managers of New Jersey LLCs not just because of the influence of the Delaware courts, but because the New Jersey statute – for a short while longer – contains an identical provision.  We don't discuss the case at length here because our point is somewhat different – the the different way fiduciary duties are addressed by the Revised Uniform Limited Liability Company Act adopted in September.  There are some excellent discussions of the case and its impact can be found on the blogs of Francis Pileggi's blog (post here), Stoel Rives LLP (post here) and Peter Mahler (post here.)
There are those that argue that an LLC is at its core is a creature of contract, and that the relationship between the members or managers carries with it no inherent fiduciary obligations.  Thus, the argument goes, the members and managers owe each other no greater obligations that they do in any other contractual relationship and the only fiduciary duties that exist are those that are created by the LLC's operating agreement.
Others, meanwhile, argue that a limited liability is a business enterprise and that the fiduciary relationships that one finds in other forms of business organization, such as corporations or partnerships, should apply.  In many states, including New Jersey, it is an open issue.  So when a Delaware Chancery Court judge went out of its way to find that the Delaware limited liability company statute itself creates fiduciary duties akin to those widely accepted in the context of corporate governance, people paid attention.  Delaware is still considered the fatherland of corporate governance and its decisions, even those of trial judges, carry a great deal of influence.
Any certainty, however, disappeared with the holding of the Delaware Supreme Court that the finding of the trial court concerning any fiduciary duties under the statute was dicta not necessary to the final outcome of the case, and expressly stating that the question of the fiduciary duties of limited liability company managers is still an open issue under Delaware law.