The controlling shareholders of a corporation owe fiduciary duties to the minority shareholders by virtue of their ability to control the affairs of the company.

Even when a merger complies with statutory requirements, where it benefits the controlling shareholders and does not have an apparent business purpose, it must also satisfy equitable principles of fairness.

The fiduciary duties owed by controlling shareholders is a basis to grant injunctive relief, even it is appears that money damages might make the minority shareholders whole for any misconduct.
---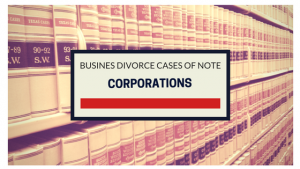 Berkowitz v. Power/Mate Corp., 135 N.J. Super. 36 (Chancery Division 1975)
Statute: NJSA 14:14-1(1)(a)
Synopsis: In class action seeking injunctive relief blocking merger of defendant Power/Mate with corporation controlled by the majority shareholders, on application for a preliminary injunction, the court enjoined a going-private merger by the defendant controlling shareholders to compel the sale by the minority shareholders to a corporation they controlled. Held that despite compliance with statutory requirements, the merger would be preliminarily enjoined.  See opinion Berkowitz v. Power/Mate Corporation. Continue reading