The controlling shareholders of a corporation owe fiduciary duties to the minority shareholders by virtue of their ability to control the affairs of the company.

Even when a merger complies with statutory requirements, where it benefits the controlling shareholders and does not have an apparent business purpose, it must also satisfy equitable principles of fairness.

The fiduciary duties owed by controlling shareholders is a basis to grant injunctive relief, even it is appears that money damages might make the minority shareholders whole for any misconduct.
---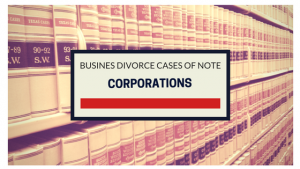 Berkowitz v. Power/Mate Corp., 135 N.J. Super. 36 (Chancery Division 1975)
Statute: NJSA 14:14-1(1)(a)
Synopsis: In class action seeking injunctive relief blocking merger of defendant Power/Mate with corporation controlled by the majority shareholders, on application for a preliminary injunction, the court enjoined a going-private merger by the defendant controlling shareholders to compel the sale by the minority shareholders to a corporation they controlled. Held that despite compliance with statutory requirements, the merger would be preliminarily enjoined.  See opinion Berkowitz v. Power/Mate Corporation.
Facts: Plaintiffs, the public minority stockholders of a corporation controlled by the defendant majority shareholders sued to to prevent the majority shareholders from acquiring all of the minority interests for cash, in technical compliance with the NJ Business Corporations Act. The acquiring corporation, which offering more than the current bid on the thinly traded public shares, disclosed in proxy materials that the price was advantageous to the acquirers. Plaintiffs alleged that the acquisition was a freeze-out of their interests. Defendants alleged that the cash price was fair and that injunctive relief was not warranted as money damages provided a remedy.
Held:  Corporate officers and directors who engage in self-dealing transactions have a heavy burden of showing that they have not violated their fiduciary obligations to the minority stockholders.
Held:  Those who control the affairs and conduct of a corporation have a fiduciary duty to all the stockholders and the powers they have by virtue of their majority status are powers held by them in trust.
Held: Merger, even though complying with procedural and statutory requirements must also satisfy basic equitable principles.
Held: The majority cannot use their powers for their own personal advantage and to the detriment of the minority stockholders. And as fiduciaries they cannot do indirectly through a corporation that which they cannot do directly.
State of Organization: New Jersey