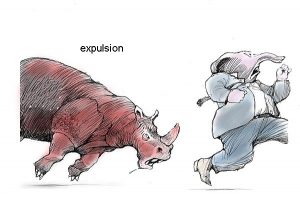 Removal of LLC Member May Be 'Prospective' Conduct
In what is probably the most significant appellate decision involving New Jersey limited liability companies in a decade, the Appellate Division held that wrongful conduct is not required to expel a member from the LLC, nor is the member entitled to be paid for the value of the interests.
On the contrary, the opinion in All Saints University of Medicine Aruba v. Chilana, Docket No. A-2628-09T1, App. Div Dec. 24, 2012, makes clear the standard can be much lower: conduct that makes it not reasonably practicable to continue the business with the member. The former member, moreover, cannot compel purchase of their interests. They are relegated to the status of assignee, forfeiting all of their management rights but still retaining their financial interest in the business.
Removal of Members in Business Divorce Cases
Expelling a member from a New Jersey limited liability company requires a judicial order, unless the LLC's operating agreement contains specific provisions that permit for the expulsion of members. Litigation over the expulsion of members, referred to in the New Jersey Limited Liability Company Act as involuntary dissociation, typically focuses on wrongful conduct by the member whose ouster is sought.