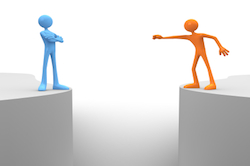 One of the hardest things about being an effective negotiator is the ability to leave your ego at the door.  We need to listen, not impress.
Seasoned Negotiators, Effective Apologies
As negotiation trainer Jim Camp warns, an effective negotiator learns how to let the other side be "ok," even when you're not.  The fact is that no matter how well we listen, no matter how well we employ our negotiator's tool kit to learn the real interests of the other side, we're going to make mistakes.